Mechanical Reinforcement Products
XCorr Composite Repair Kit
XCorr Composites employ a filled, novolac epoxy resin paired with a non-crimp, high-strength quadraxial fiberglass weave to provide superior mechanical reinforcement and chemical resistance.
When pipe strength has been compromised due to corrosion or mechanical damage, XCorr Composite Repair Kits provide a path to return to service without costly pipe replacement. The high performance epoxy resin and advanced-weave fiberglass reinforcement create a PCC-2 compliant composite, which is easy to install, yet provides superior mechanical strength and high chemical resistance.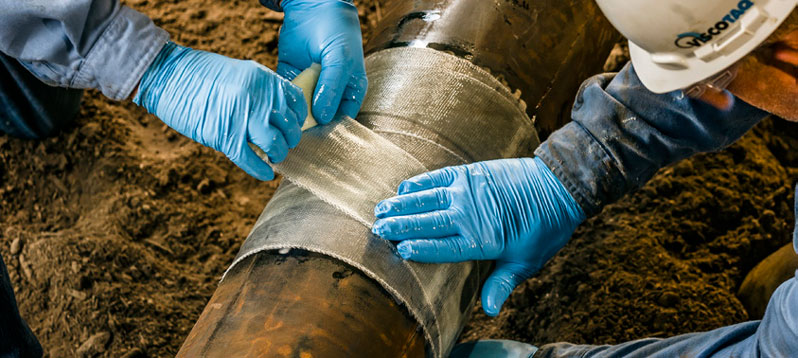 Resin (at 75°F (24°C))
Pot Life: 35 minutes
Dry To Touch: 4 hours
Full Mechanical Strength: 24 hours
Full Chemical Resistance: 24 hours
Composite
Layer Thickness (per ply): 0.06 in
Tensile Strength: 24,300 psi (ASTM D 3039)
Tensile Modulus: 2.18×106 psi (ASTM D 3039)
Lap Shear Adhesion: 1,480 psi (ASTM D 3165)
Compressive Strength: 27,000 psi (ASTM D 685)
Flexural Yield Strength: 9,600 psi (ASTM 790)
Shore D Hardness: 84 (ASTM D 785)
Temperature/Heat Resistance: From -20°F up to 450°F (-29°C to 232ºC) –continuous, dry. Consult chemical compatibility to gauge wet service performance.
Part No
Description
Case Quantity
Case WT
(lbs)
**
Contact InduMar
Shelf Life: Part A: 12 months at 75°F (24°C). Part B: 12 months at 75°F (24°C)
Storage Temperature: 32 to 100°F (0 to 43°C), 0-100% relative humidity
Application Temperature: 50 to 140°F (10 to 60°C)
Surface Preparation: Surfaces must be cleaned of all oil and debris and dried. For metal surface, a bright metal finish is desired (SSPC-SP10 (immersion) or SSPC-SP6 (nonimmersion)). If possible, the pipe should be at ambient temperature before application.